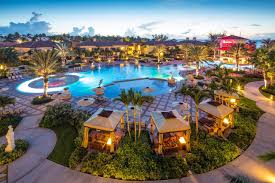 To Whom It May Concern… We are writing regarding a recent trip our family took to Beaches Turks and Caicos. Our reservation number was 4776312 and we stayed March 27 through April 3. This was our second trip back to Turks and it could not have been a more wonderful vacation. There are a few people we would like to recognize and praise for their exceptional work.
First, we would like to acknowledge Taylor from Kimonos. Taylor remembered us from the year before, he even remembered our daughters name (Angelina). Aside from doing a fabulous job as a chef he made her feel so special. He had a hat made for her when we arrived, made her part of his show and kept us entertained the entire night. Taylor is an exceptional person and someone who we look forward to seeing again on our future stays.
Second, we would like to acknowledge our housekeeper Sheleyon. We had requested to stay in the same room (325 Caribbean Village) from the year before because of the location and our favorite housekeeper. Thankfully our request was fulfilled. When we arrived at the room we saw Sheleyon and it was like seeing an old friend. She remembered who we were and our daughter's name. She is such a hard worker and a wonderful woman. Sheleyon always had something special left in the room for Angelina, (which she always looked forward to seeing each day). We want to commend her for being such a hard worker and always making us feel special. We look forward to seeing Sheleyon the next time we return and hope she is acknowledged for the work she does.
Third, we would like to acknowledge Latoya Gordon. There are not enough words to describe what a wonderful person she is. It is because of Latoya that we do return each year to Turks and Caicos. Our entire family looks forward to seeing her. Latoya always goes above and beyond to make our trip special. There was not a day that went by that Latoya didn't check on us to see how we were doing or if we needed something. Latoya always made sure Angelina and her cousins Vanessa and Gianna were having a great time. We know Latoya was recently made a Butler and have to say that no one deserves it more then her. We would like her to be commended for her hard work and customer service. Beaches is very lucky to have someone like her on their team. Our family looks forward to seeing her again (hopefully sooner then later).
Finally, we have to thank Adrian the Hotel Manager. We know none of this would have been possible without him. We found him friendly and always present throughout the resort. We also need to acknowledge our travel agent and good friend Marta Perez Salonius. Without Marta we would have never found Sandals or Beaches, our favorite place to vacation! Thank you in advance for taking the time to read our letter and we hope that the outstanding people that were mentioned are acknowledged in some way.