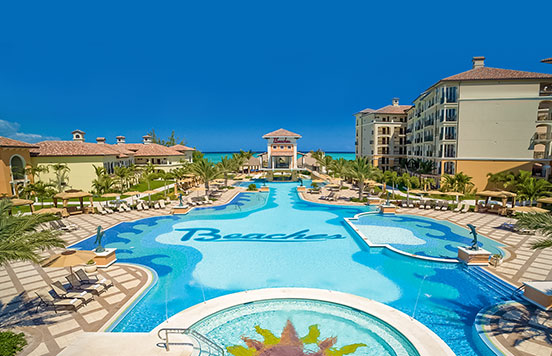 Thank you Rogers Travel and Sandals Beaches Turks and Caicos we just return from the best vacation we have had in a very long time. We spent February 27 – March 6 relaxing in the shade of a palm tree, gazing out at the crystal-clear waters. I read two books on this trip and came back total refreshed. My favorite spots were treasure beach for reading, the Adult Jacuzzi with the view of the Caribbean for relaxing and watching the sunsets and the long walks on Grace Bay to start the mornings. Now let me talk about my husband who cannot sit still. He would begin his morning walking with me, he would choose where we were going to eat all our meals [since there were 16 dining options] then head out the snorkeling, swimming, he'd play volleyball most days, participate in most group activities, circling back to check on me or drop off a food and a beverage. Needless to say it was the perfect vacation for both of us.
My favorite lunch was the Jerk chicken from Arizona's and the wood fired brick oven pizza from Bella Napoli. My favorite dinners were at Sapodilla's and Le Petit Chateau, white glove service, spectacular food and presentation amazing. We also enjoy a couple night caps at Turtles bar, but many nights we went to the outside theatre for a fantastic stage show.
We hope to go back next year with the grandkids, around every corner was an activity for the kids, the water park, lazy river, kids swim up bar was the coolest. It is now a couple weeks later and I keep opening up the photos every time I sit down at the computer. Here is a photo of a friend who kept me company on the beach, while my husband was off participating in all the activities – thanks again Rogers Travel you certainly knew where to send us so we both had the best time.